We assist families in the Raytown C-2 School District boundaries who are struggling to make ends meet. Whether it's a single mother supporting her young children on her minimum wage job; the grandmother raising two teenage grandsons on solely her Social Security pension; or the man who injured himself at work, losing insurance and an income without a way to pay rent and utilities for his family.
To consistently deliver our emergency services; making the clients dignity, self esteem and stabilization a top priority. We set out to help the Raytown Community by providing assistance with food, utilities, and rent.
Individuals Who
Regularly Help
We Currently
Serve in Raytown
That Donate on
a Regular Basis
LEND A HELPING HAND TO THOSE FAMILIES IN NEED IN RAYTOWN!
Seasonal Assistance
We offer a variety of help throughout the holiday seasons including a Christmas store for families with children under 18 years old, and a Thanksgiving Turkey distribution.
Classes
Looking for a job? We partner with CSL Work Express program to help with resume creation, job interview tips, and provide computer time to fill out online job applications. 
Food
Our emergency food pantry offers a well-balanced and nutritious selection of canned and dry goods, bread, vegetables, meat, and dairy products.
#FreeGroceryFriday: every Friday (unless otherwise noted) from 10 a.m. – 11 a.m. in the parking lot of our office. (160 bags available, first come, first served)
MUST BE A RAYTOWN SCHOOL DISTRICT RESIDENT.
VERIFICATION WILL BEGIN IN JAN. 2023
Please line up on 75th St. (do not block driveways) and follow the drive-thru process.
REAP 'POP UP' Store: Thurs. Nov. 10, 2022 – 9:30a – 3:30p – CHECK OR CASH PREFERRED – CREDIT CARDS ACCEPTED – FACE MASKS REQUIRED TO ENTER
'Birds & Baskets' THANKSGIVING SIGN UPS: NOV. 7th – 11th. Please email [email protected] with your name & address. (275 families ONLY)
Christmas Store: Sign ups will begin Nov. 14th thru Nov. 18th. Please email [email protected] with the following information:
Subject line: Name & number of children
Name:
Address:
Please include the following details in the message, Child(s) Name, Sex, Age, School, & Grade
MUST BE A RAYTOWN SCHOOL DISTRICT RESIDENT
Address will be verified before acceptance
We will utilize the Amazon Wishlist process as we did last year, so please be prepared. There will be a $100 limit for each child so be mindful when adding items to your wishlist. REMEMBER, THE WISHLIST DOES NOT MEAN YOU WILL RECEIVE EVERY ITEM ON THE LIST. The wishlist gives us an idea of what your child may like.
Request Assistance
If you require assistance, please fill out the form below to let us know how we can help.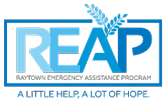 Raytown REAP is a 501(c)3 (nonprofit) organization and donations are tax deductible.
Copyright Raytown REAP. All Rights Reserved.