Thank you for your interest in adopting a family for our 2022 Christmas Store.
his is something new for us in our 34th year of hosting the Christmas Store, and we hope it's a success! 
– HOW IT WORKS: Those adopting a family will be sent an email with a corresponding number of a family at REAP. The email will contain the children (s) age, gender, clothes & show size
– WHAT ITEMS TO PURCHASE: This choice is up to YOU! We will provide you an AMAZON INTEREST/WISH LIST from the family. You can choose which item (s) you'd like to purchase. We only ask that you commit to spending at least $100 for each child. Also that the toys/ clothes/ shoes are new or unused.
 – WHEN TO DROP OFF @ REAP:
We would like to get everything in by Mon. Dec. 19th @ 4pm, but feel free to drop off anytime before then as well. Please label each bag with the number given for the assigned family, plus the name of each child. This will help us arrange them for pick up on Dec. 21st.
If you have any questions, please do not hesitate to contact me directly –

[email protected]

,

or call 816-356-0054.

If you know of any other businesses, churches, organizations, or individuals who would be interested in adopting a family, or interested in volunteering in December for the Christmas Store itself

,

please send them our way!

If you are not able to adopt a family, but still want to donate toys or money so we can shop for more toys, you can do that as well. To donate online, visit

www.raytownreap.org/donate

, or send a check to:
Request Assistance
If you require assistance, please fill out the form below to let us know how we can help.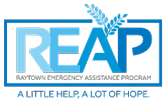 Raytown REAP is a 501(c)3 (nonprofit) organization and donations are tax deductible.
Copyright Raytown REAP. All Rights Reserved.