Founded in 1982 to raise funding for utility assistance in the Raytown area, REAP became an independent, full service, emergency assistance program on July 27, 1991 by a vote of the Board of Directors. On January 1, 1993, REAP became a United Way 501(3)C agency.
REAP is supported by the city of Raytown, civic and school organizations, businesses, churches, and many individuals who give time, resources, and finances. We moved into our new facility, built by volunteers, in September of 2009. This building is dedicated to all those who helped make it happen. Most of the building materials and equipment were donated by our faithful supporters. Thanks to our caring community, REAP can now help more people more effectively.
We help families in the Raytown community who are struggling to make ends meet. Whether it's the single mom trying to support her young children on her minimum wage job; the grandmother raising two teenage sons on solely her Social Security pension; or the man who injured himself at work, losing insurance and an income without a way to pay rent and utilities;
We see these faces and many more at Raytown Emergency Assistance Program. The people who come through REAP's doors are just like you- consumers, neighbors, and friends. They are people we see every day in our community. We must never forget that we are all just one serious accident, one major illness, or a corporate downsizing away from the possibility of needing the assistance of agencies like REAP.
"A small group of thoughtful people could change the world. Indeed, it's the only thing that ever has." –Margaret Mead
REAP BOARD MEMBERS
Reginald Green (State Farm) – Board Chair
Allan Thompson (Blue Ridge Bank – Retired) Vice Chair
Bonnaye Mims (City of Raytown – Mayor Pro Tem) Treasurer
Ann Verlinden (IRS – Retired) Secretary
Ryan Myers (Valbridge Property Advisors)
Request Assistance
If you require assistance, please fill out the form below to let us know how we can help.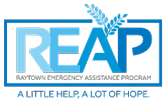 Raytown REAP is a 501(c)3 (nonprofit) organization and donations are tax deductible.
Copyright Raytown REAP. All Rights Reserved.