Your donation makes a difference in the lives of families in desperate need. Become a sustaining member, or make your one-time donation here.
Request Assistance
If you require assistance, please fill out the form below to let us know how we can help.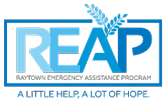 Raytown REAP is a 501(c)3 (nonprofit) organization and donations are tax deductible.
Copyright Raytown REAP. All Rights Reserved.