October 1, 2022
Community Services League and United Way of Greater Kansas City Form Collaborative Partnership to Implement and Administer Jackson County's $11.5 Million Rental Assistance Program to Renters in Eastern Jackson County
WHO: Community Services League (CSL) and United Way of Greater Kansas City have formed a collaborative partnership to implement and administer Jackson County's $11,550,205 federal rental assistance. Funds will be used to assist eligible households that are unable to pay past due rent and utility bills due to the COVID-19 pandemic.
WHAT: The Emergency Rental Assistance Program (ERAP) provides financial assistance and housing stability services in Eastern Jackson County to eligible rental households who demonstrate a risk of experiencing housing instability, have seen their income reduced by the COVID-19 pandemic, and earn a household income at or below 80% of the area median income. Rental and utility assistance payments are made directly to the landlord or utility provider on behalf of the tenant.
WHEN: Assistance applications are now open.
WHERE: More information about the program, including eligibility requirements, an application checklist, and more, can be found at www.jacksoncountyerap.org. Detailed program information is also available for Spanish-speaking families at www.jacksoncountyerap.org/espanol.
Grandview Assistance Program (GAP), Raytown Emergency Assistance Program (REAP), and Hope House, in addition to CSL's locations, are serving as application hubs with dedicated ERAP Case Managers.
READY TO APPLY: CLICK HERE to complete an application
WHY: The $11.5 million grant is part of the Consolidated Appropriations Act of 2021, which established a $25 billion Federal Emergency Rental Assistance Program for state, county, and municipal governments.
Kansas City, Missouri received its own grant funding of $14.8 million directly from the federal government and is administering its own rental assistance program for households within city limits.
Email: [email protected] if you have any further questions
Request Assistance
If you require assistance, please fill out the form below to let us know how we can help.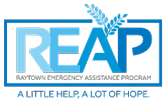 Raytown REAP is a 501(c)3 (nonprofit) organization and donations are tax deductible.
Copyright Raytown REAP. All Rights Reserved.